Samana Rahim: Pakistan's future female lead Climber
Beyond the shadow of a doubt, "nothing succeeds like success" once a person gains success in something, it is easier to achieve success in other things. Among such successive stories, there is the story of Samana Rahim. She belongs to Shimshal valley in Hunza has been considered an adept student in the Department of Tourism and Hospitality Management, Karakoram International University.
"I have faced many challenges in my life till now. Mountaineering is a risky field. There are difficulties at every step but this is what makes one's life worth living. After all, this is what life is all about."
In 2010, Samana had her first mountaineering adventure on Yazghial Trek. The trek ignited a fire inside her, leading her to start a career as a mountaineer. In 2016, she participated in and won the first ice climbing championship, organized by the Aga Khan Youth and Sports Board for Pakistan (AKYSB), which proved to be the turning point of her life. 
In 2017, Samana was part of an expedition that attempted the Passu Peak (7478m), however, finding themselves in a predicament, they canceled the expedition and Summited the Kuksail Peak (5500) instead. That same year, with the sponsorship of the Karakoram club, she led a successful expedition with three other girls to the Manglik Sar (6050).
In 2019, Samana, after ten tough days, led a Swedish client to Manglik Sar Peak as the first female guide. "As there are no high altitude female lead climbers in Pakistan, I want to become one." Says the aspiring mountaineer.
She climbed Manglik Sar Peak (6050), once again, with four other girls in 2021, the same year she trekked k2 base camp (500) with Saad Munawar's team. The future high-altitude alpinist has also summited the Shimshal pass (4700) more than ten times.
In 2020, she joined Rakaposhi base camp Trek, Ghugrave Trek, and crossed Boisam pass (4900).
Samana has also won a bronze medal in the Naltar skiing competition. Her love for mountains does not end here – the mountaineer working as the first female licensed guide is helping others accomplish their dreams by being an ice and rock-climbing instructor at Chitral, Hopper, Passu, Shimshal, and Khyber.
According to a wise man, the most difficult part of any work is getting started. Once you get started, you'll find the rest of the task easy to do. Mountaineering is not easy, however, she says she is happy and satisfied with her hard work.  Reported by her, her family was so insecure about her choice of career. However, her mother became her inspiration and strength. Her mother has always encouraged her in every aspect so that she doesn't fall upon any hurdle in her career. 
"For females, traveling alone is not easy but my family keeps a positive perspective about me and gives me a chance to avail myself opportunities in my life without any hurdles." Her focus is to work for women's empowerment. In the future, she aims to start an organization that leads women expeditions, promotes tourism, and sports in GB.
"I am thankful to the Director of the Hunza campus for creating such opportunities and encouraging me to participate. He gets me engaged in practical fields and helps me achieve my goals." — Samana
Upon asking " where do you see yourself in the future?" Summiting K2 she replied! with sparkling eyes
"K2 is my dream and my priority."
We too hope that one day she'll lead her dream expedition.
About Author
KIU's formative impact catalyzes a series of significant accomplishments: Syed Sibt-e-Hassan's Success Story
Syed Sibt-e-Hassan's remarkable odyssey commences in the distant enclave of Minapin in Gilgit Baltistan. His narrative stands as a testament to the transformative power of education. He started his early education in Skardu and then he moved to Hunza where he completed his secondary education. Despite modest scholastic achievements in Skardu and Hunza, the trajectory of his life took a promising turn when he enrolled in the Department of Chemistry, at Karakoram International University (KIU) in 2013. This decision, a pivotal juncture, sets the stage for a brighter future.
Emerging from a less-than-stellar academic background, Sibt-e-Hassan's tale takes an enthralling twist upon entering Department of Chemistry, Karakoram International University. Although resource constraints shadow the university, it emerges as the nurturing ground for his aspirations. The Chemistry faculty imparts a robust foundation, defying challenges and illustrating the potential of achieving greatness with limited means. In 2017, Sibt-e-Hassan completed his undergraduate journey at KIU, earning a distinctive silver medal for his unwavering diligence.
KIU's formative impact catalyzes a series of significant accomplishments. A turning point emerges as Sibt-e-Hassan gains admission to the esteemed HEJ Research Institute of Chemistry in Pakistan. Through rigorous effort, he penned research papers during his master's pursuit, a milestone reflecting his thirst for knowledge. In the same eventful year of 2019, he concluded his MPhil studies with a stellar paper, embarking on a PhD voyage within the same institution. This underscores his resolute dedication to the pursuit of learning.
Yet, the narrative unfolds further! Sibt-e-Hassan secured the prestigious Commonwealth Split-Site Scholarship, affording him a transformative year of research on electrocatalysis in the United Kingdom. This scholarship, a testament to his academic prowess, serves as a pivotal chapter in his journey, fortified by the bedrock of education he received at KIU.
Reflecting on his remarkable trajectory, Sibt-e-Hassan's expedition underscores the profound impact of education and tenacity. KIU, though modest in its resources, emerges as a guiding light. His gratitude extends to KIU and the mentors who illuminated his path, shaping him into a paragon of success. His voyage imparts the profound lesson that perseverance coupled with opportune moments can propel individuals toward remarkable achievements.
About Author
Dr. Adeeba's Resilience: A Journey of Triumph and Inspiration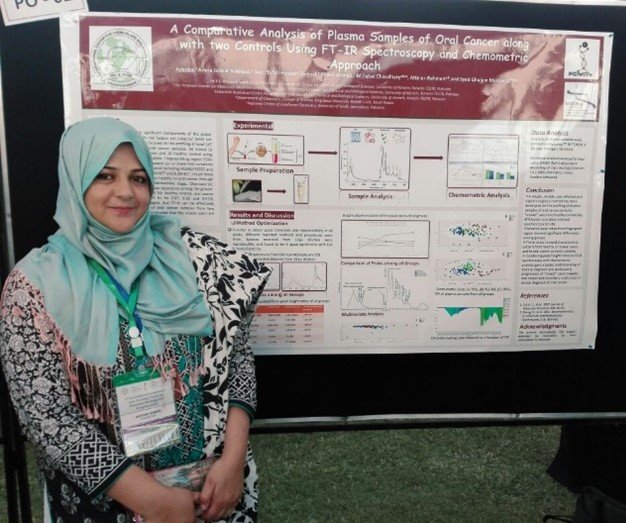 Once upon a time, nestled in the serene village of Govach, there lived a remarkable young woman named Adeeba. From her early years, it was clear that she was destined for greatness. Despite the challenges of growing up in a small village, Adeeba displayed an insatiable thirst for knowledge and an unyielding determination to overcome any obstacles in her path.
Adeeba's academic journey began at the Federal Government Girls High School No.1 in Gilgit. Throughout her schooling, she demonstrated exceptional dedication and earned her Secondary School Certificate with an impressive 60.35% marks. Her achievements continued as she graduated from Al-Mustafa Public School and College with a Higher School Certificate, securing 61.36% marks in 2009. One of the defining aspects of Adeeba's success was the support she received from her teachers. She fondly remembered the caring and inspiring educators who guided her along the way, their names etched in her memory as a testament to their influence on her life. After completing her intermediate education, Adeeba's dreams soared even higher. She gained admission to the Department of Chemistry at Karakoram International University, where her passion for the subject truly blossomed. With unwavering determination, she graduated with a B.Sc. (Hons) in Organic Chemistry, amassing an impressive 74% marks. Her journey was marked by rigorous studies and dedication, a reflection of her father's belief in providing his children with the best education possible.
Guided by her mentor Dr. Iftikhar Alis's encouragement and her own thirst for knowledge, Adeeba's aspirations reached new heights. In 2014, she secured a coveted spot at the H.E.J. Research Institute of Chemistry at the University of Karachi. Under the mentorship of the esteemed Prof. Dr. Syed Ghulam Musharraf, Adeeba embarked on a path of research and discovery that would shape her future. Years of dedication and hard work culminated in November 2017, when Dr. Adeeba proudly completed her M.Phil. degree with a remarkable GPA of 3.98, achieving the highest GPA in her class. This achievement not only showcased her intellectual prowess but also demonstrated her unwavering commitment to academic excellence. Her accomplishments during this period laid the foundation for her future endeavors.
The thirst for knowledge and the desire to push boundaries didn't stop there. Dr. Adeeba's pursuit of academic excellence led her to enroll in a Ph.D. program in 2018, once again at the H.E.J. Research Institute of Chemistry. The next five years were a testament to her endurance, as she navigated the complexities of doctoral research. In 2023, her determination bore fruit as she successfully completed her Ph.D. with a GPA of 3.90.
In 2018, Dr. Adeeba marked another milestone in her academic journey by publishing her first research article in the esteemed journal "Spectrochimica Acta Part A: Molecular and Biomolecular Spectroscopy." This publication was a testament to her dedication to advancing scientific knowledge and her ability to contribute meaningfully to her field.
In the bustling city of Karachi, amidst the chaotic rhythm of life, a remarkable woman named Dr. Adeeba embarked on a journey that would not only transform her own life but inspire countless others. Her story is one of determination, resilience, and unwavering dedication. Balancing the demands of academic rigor with the responsibilities of being a mother was perhaps her greatest challenge. In the midst of her Ph.D. pursuit, in the year 2020, she was blessed with a son. This pivotal moment could have easily caused her to waver, but Dr. Adeeba's spirit remained unbroken. She refused to let the complexities of motherhood hinder her progress. While juggling the demands of research and motherhood, Dr. Adeeba managed to shine brightly in her academic pursuits.
Yet, Dr. Adeeba's journey was not one of solitude. She stood strong thanks to the unwavering support of her loved ones. Her sister and her son stood by her side, their presence a source of strength in the face of adversity. Additionally, she was immensely grateful to her beloved husband and her father-in-law, whose encouragement and understanding allowed her to thrive even in the most challenging times.
She expressed her gratitude towards her mentors, particularly Dr. Iftikhar Ali and Prof. Dr. S.G. Musharraf. These guiding lights recognized her potential and provided the support and mentorship she needed to navigate the treacherous waters of academia. Their wisdom and guidance were instrumental in shaping her into the brilliant researcher she had become.
In 2023, the world recognized her brilliance and potential. Two remarkable postdoctoral offers graced her doorstep: one from the University of Houston, USA, for a year, and the other from Zhejiang University, China, for an impressive three-year term. After careful consideration, Adeeba chose to spread her wings at Zhejiang University, a renowned institution that stood among the best in the world. Dr. Adeeba's upcoming postdoctoral research at Zhejiang University, under the guidance of Prof. Dr. Daniel Henry Scharf, will involve the development of an efficient method for producing diketopiperazine derivatives. The focus will also encompass the synthesis of highly effective cytotoxic epidithiodiketopiperazines, strategically designed for further derivatization. Additionally, the research aims to make strides towards achieving the complete synthesis of the tetrapetalones.
In the vast realm of academia, where knowledge and innovation converge, there are individuals who shine like beacons of inspiration, guiding others through their unwavering dedication and remarkable achievements. Dr. Adeeba's story is one such tale of relentless perseverance and a commitment to excellence.
About Author
Embracing Challenges: Gul Rukhsar's Remarkable Journey
Let's introduce one of the alumni of the Department of Chemistry, Karakoram International University Ms. Gul Rukhsar. Hailing from the beautiful valley of the district of Ghizer. She has completed her early education in Gahkuch, Ghizer. Gul Rukhsar's journey is a striking example of how determination, hard work, and self-belief can lead to incredible success. From an early age, she displayed a natural love for learning, consistently achieving top positions in her lower classes. This dedication opened doors, and she gained admission to Aga Khan Higher Secondary School, Gahkuch, an esteemed institution that not only expanded her knowledge but also nurtured essential life skills like effective communication and confidence. She spent four years in school and college then in 2015 she was admitted to Karakoram International University
Continuing her education, Gul Rukhsar pursued her passion for chemistry at Karakoram International University, Gilgit. Despite her achievements, doubts from friends and relatives about her university choice weighed on her. However, she remained silent, letting her actions speak for themselves.
With resolute determination, she threw herself into her studies, recognizing that actions define one's journey. Throughout university, she maintained an exceptional academic record, silencing doubts and reinforcing her commitment. She also works on a research project under the supervision of Dr. Muhammad Ismail on the topic of "Evaluation of Pulsatilla wallachina for Insecticidal Activity" and then she graduated in January 2019 from Karakoram International University with an exceptional CGPA of 3.91.
Photo taken in HUST during the celebration of New Year
Gul Rukhsar's accomplishments extend beyond academics. She honed skills like critical thinking, writing, and effective communication. Her belief in a sound mind and body led her to participate in sports like volleyball, badminton, and cricket at different levels.
Equally inspiring is her dedication to community service. As an active member of the Character Building Society during university, she fought against injustice. Her volunteer efforts included organizing educational events and uplifting gatherings, showing her commitment to giving back. This spirit of service started early, with Gul Rukhsar becoming a junior guide at seven.
Photo taken at the end of the sports competition arranged for Chinese and international students at HUST
A photo taken in a Chinese language class with international students
Beyond her studies, Gul Rukhsar dreamt of studying abroad. She navigated scholarship opportunities with focus and dedication, ultimately securing admission to well-regarded institutions in Pakistan and China. Choosing Huazhong University of Science and Technology (HUST), she embarked on a journey that would test her resilience. Then she Joined HUST in 2019 September on a fully funded Chinese government scholarship.
Arriving at HUST, cultural differences and language barriers initially challenged her. Despite the isolation, she overcame these hurdles, learning Chinese, forming friendships, and familiarizing herself with her new environment.
Then, the unexpected hit—the COVID-19 pandemic disrupted everything. Instead of succumbing to frustration, Gul Rukhsar used this time to explore new avenues, taking online courses, honing artistic skills, and delving into cooking.
When academic activities resumed, she returned to the lab, adapting to the equipment and environment. However, her greatest challenge lay in her research—a field unfamiliar in her home country. Doubts plagued her, but with unwavering family support, she persevered.
The photo was taken with her research group, supervisor and team , during a dinner party after the defense.
Gul Rukhsar's determination yielded remarkable results and she was able to secure 87.91 % – not only did she complete her research, but she also secured publication in a prestigious journal.
Her recent published paper in Journal of Organic Chemistry
Her journey vividly illustrates that challenges are, indeed, catalysts for personal growth. Despite of very busy schedule, she tried her best to participate in different volunteer work such as arranging parties in HUST on behalf of the Department of Chemistry as well as helping international students during COVID-19 and showed her active participation in sports.
Receiving certificate for her dedicated service to the Pakistan Students Community in HUST
Then she returned to her home country in August 2023. Returning to Pakistan, she sought solace with her family and friends, recharging her energy and enthusiasm for her forthcoming PhD journey.
Her story took an uplifting turn as she qualified for a revered institution, Aga Khan Higher Secondary School Gilgit, immediately upon her return. After dedicating a month to her service there, she accomplished yet another feat by earning a position as a Teaching Associate of Chemistry at the University of Baltistan. Presently, she is actively engaged in mentoring young minds, eager to share her experiences and knowledge.
Her transformation is evident as she now finds immense satisfaction in lab work and teaching. What brings her profound happiness is her role in preparing these young learners to face global challenges. She recognizes the critical importance of research and lab work in equipping them to compete on an international stage.
Gul Rukhsar's journey epitomizes the power of resilience and tenacity. From her own journey of surmounting challenges, she now stands as an inspiring educator, nurturing the next generation and fostering their potential to shine on the world stage.
Photo taken while performing an activity of making Chinese knot (zhongguo jie)
Photo with her labmate in lab at HUST
About Author